Wakko Warner



Full name:

Wakko Elias Warner

Age:

4 (at the beginning of the series)
10 (at the ending of the series)
11 (Wakko's Wish)
16 (Animaniacs: The Great Edgar Hunt)
22 (As of 2010)
30 (now)

Family

King William the Good (father), Queen Angelina Contessa Louisa Francesca Banana-Fanna Bo Besca the Second (mother), Yakko (brother), Dot (sister), Queen Angelina Contessa Louisa Francesca Banana-Fanna Bo Besca the First (grandmother), Sakko (cousin), ZakKo (cousin), Pakko (cousin), Makko and Rokko (twin cousins), Jot (cousin), Chell (cousin), Jakko Warner (uncle), Dakko Warner (uncle)

Nationality:

Warnerstockian

Species:

Toon

Hair/fur color

black

Cathphrase(s)

"Hello Nurse!!"
"Faboo!"
"Can we call you Dadoo?"

Voiced by

Jess Harnell (series), Maurice LaMarche (belches in English version), Michel Mella (French), Santiago Ziesmer (German), Yuu Mizushima (Japanese), Roman Soiko (Chinese), Ferbette (Animaniacs: The Movie), h≡r (Zany to the Max)

Maddox121 (Animaniacs 2019)
Wakko
(voiced by
Jess Harnell
) wears a sky-blue turtleneck and a red cap turned backwards with holes cut out for his ears.
Early Life
Edit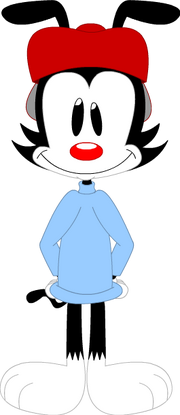 Wakko Elias Warner
was born on November 4, 1988 in Acme Falls to
Sir William the Good
and
Queen Angelina Contessa Louisa Francesca Banana-Fanna Bo Besca the Second
. In 1992, his parents passed away. One day, the Warners discovered that their parents had been the king and queen of Warnerstock, making them the heirs to the throne, but they didn't want to be involved with royalty, but one day, the village was under attack, so they jumped in the back of a nearby truck, later, at a gas station, he went out with his siblings to get them something to eat, then went back to the truck, which eventually lead them to Burbank, California. When they arrived in Burbank, they all had no clue since they were all hiding in a box with top sealed shut with tape, they had unknowingly dove into the back of a mailman's truck. Coincidentally, the mailman delivered the box with the Warners into a man's living room. Shortly after, the man took the Warners under his wing, then noticed their talent and asked the manager of Universal Studios to give the Warners their own show, and said that they should be on the Cartoon channel, the manager agreed and the Warners started filming the next morning. Later that year, the studio's name was changed to Warner Bros. in honor of him and his brother and sister, who were later all named "Princes and Princess of Comedy" (You could see the newspaper article in the episode where him and his brother and sister write a script for a movie (1998) In 1998,
his sister
was diagnosed with a heart murmur, but she didn't let it stop her, then, later that year, they were told that the show was coming to an end.